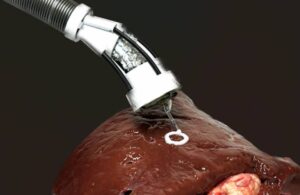 Engineers in Australia say they have developed a miniature robotic arm for 3D printing biomaterial directly on human organs.
UNSW Sydney researchers developed the device as a flexible, soft robotic arm for 3D bioprinting. This process fabricates biomedical parts from "bioink" to construct natural, tissue-like structures. Predominantly used for research purposes, the process normally requires the use of large 3D printing machines to produce cellular structures outside the body.
However, Dr. Thanh Nho Do and PhD student Mai Thanh Thai collaborated with other UNSW researchers to develop a new bioprinting method. Professor Nigel Lovell, Dr. Hoang-Phuong Phan and Associate Professor Jelena Rnjak-Kovacina collaborated on the research, published in Advanced Science.
The proof-of-concept device is called F3DB and can go into the body just like an endoscope. It directly delivers multilayered biomaterials onto the surface of internal organs and tissues. F3DB features a highly maneuverable swivel head that prints the bioink. It attaches to the end of a long, flexible, snake-like robotic arm. The researchers say it can all be controlled externally.
Get the full story at our sister site, Medical Design & Outsourcing.